Welcome! Welkom! Fáilte roimh!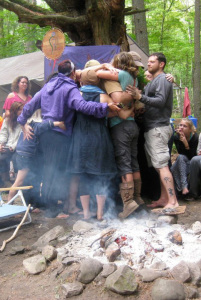 Welcome to our first monthly newsletter! We have an amazing circle stretching from Belgium to Holland to Ireland to the United States, and so much goes on in each of these different circles – how wonderful would it be if there was a way we could begin to share with each other not only the happenings, but also the wisdom, insight, love, and prayers that we all carry?
Serendipitously, this first newsletter came together in the midst of strong transitions and important moments in our community. Below, you'll find important information and sincere communications about the events of this and last week. It also carries joyful and contemplative offerings around the seasonal, communal, and personal transitions taking place.
If you would rather not receive future newsletters, and would rather only receive updates about upcoming lodges and gatherings please email me to let me know at newsletter@big-heart-circle.org and I can set that up for you.
A sincere thanks to all the folks, on both sides of the Atlantic, who in any way, shape or form, helped get this going.
– Stefan 
---
For right now please direct all inquiries, suggestions, and willingness to help to the central email for the newsletter – newsletter@big-heart-circle.org
Over the next days I will be setting up different email accounts for the different areas. Those email accounts will all be listed here as they come into existence.