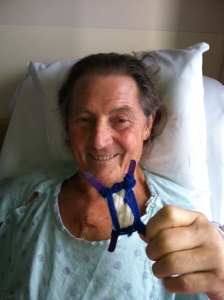 [NOTE: If you click on an image you can view the larger version.]
What a profound thing to move from the deathbed of his Abenaki sister to the operating room the following week. Carl's open heart surgery on Friday, October  24, was life saving. Tom, Billy, Ruth, myself and Carl's daughters all were there when the surgeon came out of the OR and announced that the surgery was a success and that the timing of the surgery was critical. He didn't know how Carl had made it this far.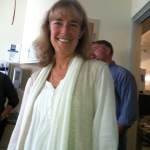 When Carl was woken up out of the anesthesia, it was the following morning. The first thing he said to me was "I've had a stroke."  The doctors and nurses assured him and us that he hadn't, but Carl persisted. On Sunday a neurologist visited and agreed with Carl's assessment and scans were ordered which showed evidence of stroke. His right arm and hand, and right leg were weak. He couldn't use his hand or lift his arm, but he began therapy immediately (on his own at first) and his progress was steady and rapid. Today he has full use of his limbs and no one would be able to tell that he had had a stroke.
For the first 3 days Carl was in the Intensive Care Unit, inviting anyone who wanted to visit to come. All rules were set aside for him, and he had as many as 11 in his room at one time, cell phone calls, and lots of laughter. He had tubes and chords coming out of his body and a 10 inch scar running down his chest.  Hannah (age 11) was the only grandchild to see Carl on Saturday, day after surgery. "He wasn't looking great," says Hannah's mother, Vajra ." It was startling to see him and I was surprised how well Hannah took it, because I was freaking out!" Walking out of the hospital, Vajra asked her, "Are you doing OK sweetheart?" Hannah gave her a "look" and said, "Well, I guess I'm over my fear of Halloween now!"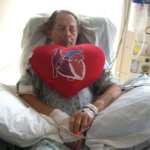 Since Halloween was less than a week away I'd prep tentative children by asking if they wanted to see a scary man. This brought the kids running in. Our friend, Cher, came to visit bringing her partner, Drury, and his 3 children.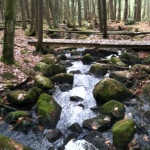 They had just come from a sweat lodge that Drury had poured. Carl was in his recliner and the children were all rolling around on his bed. Before they left Cher asked Carl to be sure to have his nurse change the sheets since the kids were dirty from the lodge. I walked them out and we all had dinner together. Meanwhile, Vajra came to visit and overheard him asking that the sheets be changed. She heard him say to the nurse that 3 little Lakota children were rolling on his bed. He said they were dirty from the sweat lodge so he needed his sheets changed before he could get back in bed. The nurse turned to Vajra with raised eyebrows and a concerned look. Vajra raised her eyebrows and tentatively shook her head at the nurse.  "Hmmm.  Dirty little Lakota children fresh out of the lodge were on my Dad's bed?? …Its OK. Just change the sheets!" On her way out of the hospital saw me with Cher, Drury (who is Lakota) and his 3 children. She was relieved. She thought Carl had completely lost it!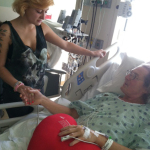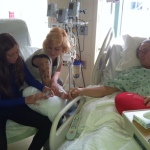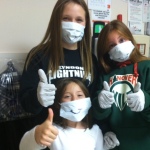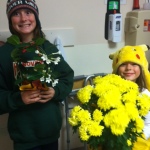 The day of Carl's discharge he went into atrial fibrillation which brought the medical team back together to figure out what to do next. There were several opinions, but no immediate agreement. One of his doctors said, "We've moved past realm of medical science and into the art of medicine." Each brought his specialty to the table, all agreeing that Carl was a special case. The following day they gave a mild electrical shock to the heart and he went back into sinus rhythm. He was discharged after 10 days of hospitalization.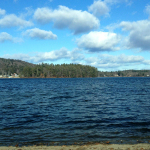 From the hospital we headed to Spofford, NH, to a wooded cottage on a lake that Norma Bowe, from the Big Heart Circle, had graciously offered to Carl for his recovery. We are so grateful for this gift! Visitors included his sister Nancy from SC, Mary and Darrel, Tom and Laura, Ruth and Billy, Nancy Babcock, and Carl's daughters and grandchildren.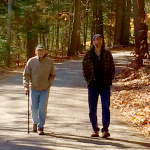 This past Saturday was a lovely day in Spofford. Carl was feeling good and full of energy. We took a long walk along the lake and he ventured out for the first time on a little outing to the farmers market in Keene, NH. At the market he went into A-Fib and we ended up back at the hospital for another 3 days. He went back into sinus rhythm on his own, and is now back home in the North East Kingdom of Vermont. We got back last night. He is doing well, and sends his love. And so do I.